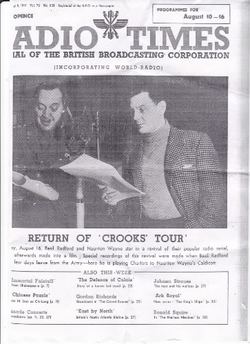 Return of Basil Radford and Naunton Wayne in 'CROOKS' TOUR'
Broadcast on
BBC Home Service Basic, 16 August 1941 18.45

Six Episodes

Credits
Dialogue By Frank Launder, Sidney Gilliat
Story by John Watt, Max Kester.
Music By Kenneth Leslie-Smith and Charles Shadwell/Hugo Rignold and his Orchestra
Lyrics by Max Kester
Production By Vernon Harris




​
Synopsis
All fans of Messrs. Basil Radford and Naunton Wayne-and there are many of them-will welcome this return for a run of six weeks of Crooks' Tour. The particularly English form of craziness so aptly developed by this pair has made a hit not only in radio but also on the films, in The Lady Vanishes and Sight Train to Munich. So here are Charters and Caldicott once more, keeping up the mood with which you are familiar, with the help of an hilarious cast.
​
​Cast
There is some confusion on the actors playing which parts and it appears that more than one actor played the same part in different episodes. In these instances both actors names are listed against the part.

Charters Basil Radford
Caldicott Naunton Wayne
Mr Fairbrass the Guide Clifford Bean/Cyril Nash
Tourist Clegg
Reginald Smythe-Fortescue Ewart Scott/Horace Percival
The Sheik Alan Wheatley
Bernard Rossinger Oliver Burt
Ali Uphana Jacques Brown
Alex Rackoff Frank Thornton-Bassett/Douglas Young
La Palermo Greta Gynt/Patricia Leonard
The head waiter Andrea Malandrinos
K7 Philip Leaver
The Watchmaker Clifford Bean
The Guide Foster Carlin
Airport official John Lotha
Edith Charters Noel Hood
Manager of the Hotel Magyar Douglas Matthews
Head waiter at the Montana' Rolf Carston
Attendant at St Christopher's Baths Frank Thornton-Bassett
Steward at the Travellers'Club Clifford Bean
Sir James Buckland Douglas Matthews
Hogan Harry Hutchinson
Miss West Betty Astell

Episodes
Part 1 All Abroad! 8:00pm 23rd February 1940
Here is the first instalment of a new serial thriller introducing those vague, cricket-loving Englishmen, Charters and Caldicott, who, created by Naunton Wayne and Basil Radford , delighted picturegoers in that breathless film The Lady Vanishes. That they are to broadcast in the parts they made so peculiarly their own on the screen is real good news for listeners.
Once again Charters and Caldicott are on a world tour, on their way back to England. In the Arabian Desert they are on their way to visit one of the lost cities, when their charabanc breaks down. They meet a Sheik's caravan. He turns out to have been at the same school with them, and they ride triumphantly to Baghdad on camels. By which you will see that there is colour and laughter here. But it is in a cabaret at Baghdad that all the trouble starts. They are mistaken for spies and handed plans of military importance cunningly hidden on a record.

Part 2 Thud and Blunder! 8:30pm 1st March 1940

Part 3 Crime Marches on! 8:00pm 8th March 1940
Here is the third instalment of this thrilling serial which is notable for two facts: Naunton Wayne and Basil Radford play the parts of the two Englishmen who are always interested in cricket though their skins are in danger-parts they created in the successful film The Lady Vanishes and have reproduced in one recently shot-Gestapo. The other notable fact is that the radio script has been written by Frank Launder and Sidney Gilliat , who wrote the scripts of both the* above films.
In this instalment we shall hear our heroes flying from Constantinople to Budapest, where they get involved in further complications. We shall meet ' La Palermo ' played by Greta Gynt, and be thrilled to the end.

Part 4 Chasing the music! 7:00pm 15th March 1940

Part 5 High Spy! 6:30pm 21st March 1940
​
Part 6 How's That, Empire? 6:30pm 28th March 1940


---
​








Secret Mission 609

BBC Radio serial broadcast 1942 Home Service
Sequel to ' Crooks' Tour'

Synopsis
No details.

Credits
Written by Frank Launder and Sidney Gilliat.
Music by Kenneth Leslie-Smith and Geraldo and his Orchestra
Produced by Vernon Harris.
Charters Basil Radford
Caldicott Naunton Wayne
Ann Patricia Leonard

Episodes
Part 1 'There goes the bridegroom! 8:00pm 9th February 1942

Part 2 Your Policemen are Wonderful! 8:00pm 16th February 1942

Part 3 You can take it with you! 8:00pm 23rd February 1942

Part 4 Einzwei-drei-bompf! 8:00pm 2nd March 1942

Part 5 He's in the bag! 8:00pm 9th March 1942

Part 6 Bring him back alive! 8:00pm 16th March 1942






Double Bedlam
​
BBC Radio serial broadcast 1946 Light Programme
Eight Episodes

Synopsis
No details.

Credits
Written by John Jowett.
Music by Kenneth Leslie-Smith and Geraldo and his Orchestra
Produced by Vernon Harris.
Spencer Basil Radford
Woolcott Naunton Wayne
Mrs Barfitt Olivia Burleigh
Sally Boyd Judy Kefiy
David Baxter John Bentley
Queenie Cecile Chevreau
Simon Paul Richard Wattis
Mr Gray Stephen Jack
Chief Inspector Bush Derek Birch
Sergeant Byng Frank Thornton

Episodes

Part 1 They're Off! 8:00pm 8th May 1946

Part 2 Find the Body! 8:00pm 15th May 1946

Part 3 On the Rails 8:00pm 22nd May 1946

Part 4 First Hurdle 8:00pm 29th May 1946

Part 5 Round the bend 8:00pm 5th June 1946

Part 6 Water Jump 8:00pm 12th June 1946

Part 7 Last Ditch 8:00pm 19th June 1946
​
Part 8 Close Finish 8:00pm 26th June 1946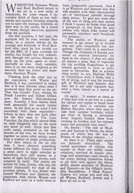 Guardian 18th July 1952

Whenever Naunton Wayne and Basil Radford return to the air in a new series of broadcasts, for some reason I invariably think of them as two well-known and popular batsmen stepping out to open the innings, followed, on their way to the crease, by a round of warm, but decorous, applause from the pavilion.

On this occasion, I feel sure, the applause will be even warmer than usual, as a special tribute to the courage and fortitude of Basil Radford who, since he last turned out for the BBC (if I may continue the simile) has fought his way indomitably through two serious illnesses to strap on his pads again as stout-heartedly as ever. And, certainly, there is no one more delighted at his recovery than his friend and team mate, Naunton Wayne.

Thinking back the other day on my association with Wayne and Radford, I was astonished to realise that it is now thirteen years since I produced their first serial on the air. That was Crook's Tour, written by Frank Launder and Sidney Gilliat, now the famous film-producing team. Actually, I have known them both personally for nearly twenty years. In my days as an actor I was associated with them separately – before, in fact, they met each other the first time for The Lady Vanishes, the film which started them on their delightful way as the team you know so well. Since that first radio serial, presented in the first months of the war, we have worked together on seven serials, apart from a number of single productions.

For the return to the air this time I have planned something rather different for them. Instead of a serial story in eight episodes as heretofore, they will appear in a series of eight half-hour stories, each complete in itself. The stories are written by John Jowett, who was the author responsible for four of the previous serials. It was Jowett, who created Walcott and Spencer, the characters with whom Wayne and Radford are now, as a radio team at least, inseparably associated. And it is as Woolcott and Spencer that they will stumble with their characteristic air of bewildered aplomb through these stories. To give you some idea of the sort of thing you may expect, I think I cannot do better than quote a paragraph or two from the preambles from which John Jowett will personally introduce each broadcast. For instance:

'The ability of Woolcott and Spencer to get mixed up in trouble was not only remarkable but ubiquitous. They could do it anywhere. Though the continent of Europe possessed an especial fascination for them in this respect, it does not after all require a great deal of ingenuity for the strolling Englishman to get himself garrotted in Graz or mutilated in Marseilles. But to achieve these results, in say, Malvern Wells or Cheltenham does, I think, take a bit of doing; and it was the peculiar gift of Woolcott and Spencer that they did it not only regularly but, after a time, almost as a matter of course.'

Or again: 'It seemed as if they only had to set foot in a place for uproar and rapine to break loose there; and there is certainly one Balkan Republic where they used to take their summer holidays, which got tired of having a revolution every August, banned them crossing its borders, and has enjoyed peace and prosperity ever since.'

Or finally: 'The visit of Woolcott and Spencer to Persia, the direct result of which was the loss to Britain of the Abadan refinery ....'

So there it is. These eight stories are fantastic absurdities. The varied assortment of villains who appear in them are wildly comic creations, involved in lunatic plotting and scheming – and always, in the event, finding themselves forced to pit their wits against the bland, stolid, simple stupidity of Woolcott and Spencer – to the villain's inevitable discomfiture. I think Rogues' Gallery will amuse you and that is all Wayne, Radford and I


---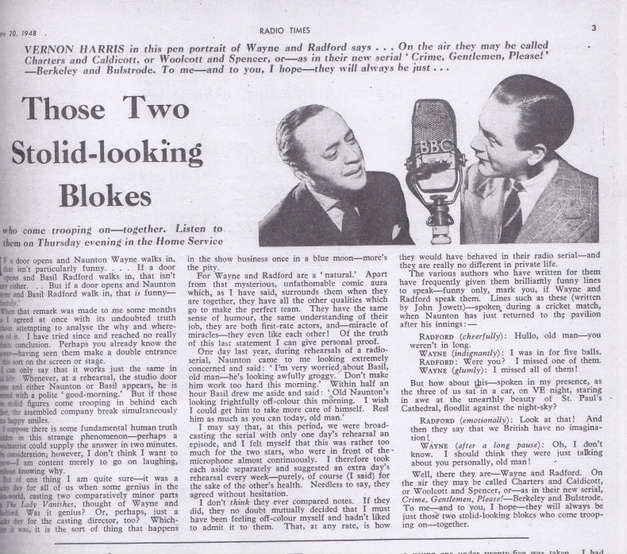 Crime Gentlemen, Please! (1948)



Vernon Harris, in this pen portrait of Wayne and Radford says – On the air they may be called Charters and Caldicott, or Woolcott and Spencer, or – as in their new serial, Crime Gentlemen, Please! – Berkeley and Bulstrode. To me – and to you, I hope – they will always be just ….

Those two stolid-looking blokes

who come trooping on – together. Listen to them on Thursday evening on the Home Service



---


Crime Gentlemen, Please! (1948)

"If a door opens and Naunton Wayne walks in, then that isn't particularly funny. If a door then opens and Basil Radford walks in, that isn't funny either. But if a door opens and Naunton Wayne and Basil Radford walks in, that is funny – definitely."

When that remark was made to me some months ago I agreed at once with its undoubted truth without attempting to analyse the why and wherefore of it. I have tried since and reached no really finite conclusion. Perhaps you already know the answer – having seen them make a double entrance of this sort on the screen and stage.

I can only say that it works just the same in real life. Whenever, at a rehearsal, the studio door opens and either Naunton or Basil appears, he is greeted with a polite 'good-morning' But if those two solid figures come trooping in behind each other, the assembled company break simultaneously into happy smiles.

I suppose there is some fundamental human truth hidden in this strange phenomenon - perhaps a psychiatrist could supply the answer in two minutes; however, I don't think I want to know - I am content to merely go on laughing, without knowing why.

But of one thing I am quite sure – it was a lucky day for all of us when some genius in the film-world, casting two comparatively minor parts in The Lady Vanishes, thought of Wayne and Radford. Was it genius? Or, perhaps, just a lucky day for the casting director, too? Whichever it was, it is the sort of thing that happens in the show business once in a blue moon – more's the pity.

For Wayne and Radford are a natural. Apart from that mysterious, unfathomable comic aura which, as I have said, surrounds them when they are together, they have all the other qualities which go to make the perfect team. They have the same sense of humour, the same understanding of their job, they are both first-rate actors, and – miracle of miracles – they even like each other! Of the truth of this last statement I can give personal proof.

One day last year, during rehearsals of a radio-series, Naunton came to me looking extremely concerned and said: 'I'm very worried about Basil, old man – he's looking awfully groggy. Don't make him work too hard this morning'. Within half an hour Basil drew me aside and said: 'Old Naunton's looking frightfully off-colour this morning. I wish I could get him to take more care of himself. Rest him as much as you can today, old man'.

I may say that, at this period, we were broadcasting the serial with only one day's rehearsal an episode, and I felt myself that this was rather too much for the two stars, who were in front of the microphone almost continuously. I therefore took each aside separately and suggested an extra day's rehearsal each week - purely of course (I said) for the sake of the other's health. Needless to say, they agreed without hesitation.

I don't think they ever compared notes. If they did, they no doubt mutually decided that I must have been feeling off-colour myself and hadn't liked to admit it to them. That, at any rate, is how they would have behaved in their radio serial – and they are really no different in private life.

The various authors who have written for them have frequently given them brilliantly funny lines to speak – funny only, mark you, if Wayne and Radford speak them. Lines such as these (written by John Jowett) – spoken, during a cricket match, when Naunton has just returned to the pavilion after his innings:-

Radford (cheerfully): Hullo, old man – you weren't in long.

Wayne (indignantly): I was in for five balls

Radford: Were you? I missed one of them.

Wayne (glumly): I missed all of them!

But how about this - spoken in my presence as, the three of us sat in a car, on VE night, staring in awe at the unearthly beauty of St. Paul's Cathedral, floodlit against the night sky?

Radford (emotionally): Look at that! And then they say that we British have no imagination!

Wayne (after a long pause): Oh I don't know. I should think that they were just talking about you personally, old man!

Well, there they are – Wayne and Radford. On the air they may be called Charters and Caldicott, or Woolcott and Spencer, or – as in their new serial, Crime Gentlemen, Please! – Berkeley and Bulstrode. To me – and to you, I hope – they will always be just those two stolid-looking blokes who come trooping on – together.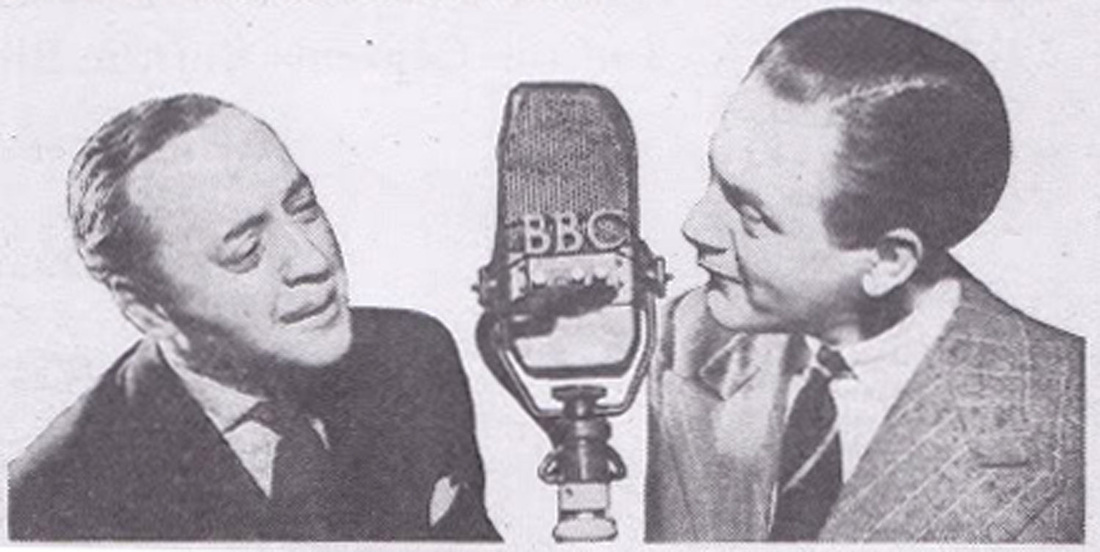 Rogues Gallery (1952)

Continuing their flourishing radio career in 1952, Basil Radford and Naunton Wayne were paired in Rogues Gallery . For this radio collaboration they were called Woolcott and Spencer. Unfortunately this was their final couting together. It was on this BBC radio production in 1952, that the team came to an untimely end in the middle of their on-air performance. In mid-production Basil Radford died suddenly of a heart attack at age 55, and Naunton Wayne completed the adventure on his own.


Mystery Tour (1951)

June 1951 Radio Times

While their talents as a team were put to great use in several movies, they also had a flourishing radio career..

Basil Radford and Naunton Wayne are intrepid radio travellers, especially (as in May I Have the Treasure?) when they have John Jowett to write the programmes. The journey they begin together, and with the same writer, in the Light Programme on Saturday evening is likely to be less full of incident than their previous ones but hardly less mysterious. Indeed the title is Mystery Tour – which describes precisely what is in store for this peripatetic pair.

They arrive together at Victoria Coach Station, are called to a particular bay where a general tour is supposed to start – and find that they are the only passengers. Bravely they set out. They will perhaps recognise their destination when they do arrive and then it is up to the listener to solve the mystery. Wayne and Radford will provide clues, part of the time in conversations with people on the spot. In the first programme they hope to visit four places of interest (which is as precise a term as we are permitted to use) and at the end they will give the details of their route. Bernard Lyons, who produces the programme, is sure that even those listeners who guess correctly what the places are will learn something about them that they did not know before.




With the help of a BBC mobile recording unit, Basil Radford and Naunton Wayne visit well-known places and talk with well-known people. They provide clues and expect listeners to guess where they have been or whom they have met


Written by John Jowett
Produced by Bernard Lyons
Contributors
Presenter: Basil Radford
Presenter: Naunton Wayne


The limited information available indicates that the programme consisted of three episodes - all broadcast on Saturday evenings between 23rd June 1951 and 7 July 1951. Does anybody have details of other episodes or of the places that they visited on their Mystery Tours?

At the time that this was broadcast, Basi! Radford was appearing in ' Taking Things Quietly' at the Ambassadors' Theatre, London.