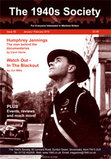 The 1940s Society's latest Members magazine has an article about Charters and Caldicott. Click on the image to subscribe.
---
Follow Charters and Caldicott on Facebook and Twitter

Charters and Caldicott on Facebook
@ChartersandC on Twitter


Links to Other websites that may be of interest



Basil Radford and Naunton Wayne Sites


Basil Radford on Tumblr



---

British Pathe - Silkworms Party 1953
Naunton Wayne celebrate the 21st birthday of Lady Hart Dyke's Silkworms.


---

Naunton Wayne on Tumblr


---

British Pathe - Saving Rubber 1942
Actor Basil Radford is seen running along the streets of a village and stealing bits of rubber such as old bicycle and car tyres


---
British Pathe - Butting In (1932)
Actor Naunton Wayne meets a group of chorus girls in vests and shorts as they perform an exercise routine in front of a curtained backdrop. They stand on tiptoes and lift their arms. They then bend and touch their toes. A man comes onto the stage - it is Naunton Wayne.


---

Chester Cinemas
The Chester Cinemas website has complete details, photos and movie clips of all big screens, the stars - including a page dedicated to Basil Radford - and the staff from the Odeon, ABC, Gaunt, Royalty, Picturedrome, Tatler and many more. Relive the golden age of film and cinemas in Chester.


---

Actors and Actresses from Charters and Caldicott films


Margaret Lockwood Obituary
BBC News video from 1990


---

Linden Travers Obituary from 1991
Linden Travers appeared in The Lady Vanishes


---

Annual Linden Travers Movie Day
The Houghton Heritage Society regularly hold Linden Travers events to commemorate Houghton's star of the stage and screen. Linden Travers appeared in The Lady Vanishes


---

Greta Gynt obituary



---

Meg Jenkins Obituary from 1998.
Megs jenkins appeared in Millions Like Us






---

Eileen Joyce
The musician behind scores for A Brief Encounter and an appearance in A Girl In A Million. The sad story of a pianist whose brilliance did little to mask a host of personal demons


---
Classic Film and TV Stars


Tony Hancock Appreciation Society
Dedicated to preserving and promting the works of Tony Hancock


---

The Comedy Carpet
Basil Radford and Naunton Wayne are just of the many actors and comedians featured on Blackpool's world famous Comedy Carpet.


---

Will Hay, Comic Genius
A Tribute to Will Hay.
Will Hay was a British film and radio comedian who starred in 18 films from 1934-1943




Max Miller
The Max Miller Appreciation Society website dedicated to the memory of The Cheeky Chappie.


1940's Home Front Sites


Home Front History
Home Front History is the UK's popular resource for everyone who has interest in the social and military history of Britain during the 1939 to 1945 war


---

The 1940s Society
Are you interested in the 1940's? If you are then visit this website - lots of really interesting stuff to read, look at and reminisce about


---
Romney, Hythe and Dymchurch Railway
Gilbert, Michael Redgrave's character in The Lady Vanishes knew how to drive a steam train. This is supposedly where he learnt as a youngster.




---

Dodgy Rodge - "Spiv Extraordinaire"
A true-to-life 1940s style "Spiv"


---

Lt. Cmdr. Rodger "Dodger" Overandout


---

World War 2 Sites


Sheffield Blitz
Documentary film taken in Sheffield during the Second World War, this film includes footage of the severe bomb damage suffered by Sheffield during the Blitz as King George VI and Queen Elizabeth tour of the damaged areas.

---

BBC Archive - WW2 Breaks Out
On 3 September 1939, Neville Chamberlain broadcast to the nation that Britain was at war with Germany. . Experience British life on the brink of war through original news broadcasts



---

BBC Archive - The Invasion of Czechoslovakia
A BBC correspondent describes in detail his experiences of Czechoslovakia as German troops move into the border areas following the Munich Agreement. On a journey from Prague to the occupied zones he bears witness to refugees, demobbed Czechoslovak soldiers, war defences and Hitler's visit.